My grandfather always said where the eye rests, there too does your focus. Despite Berlin's more than 900-year history, the mind naturally rests on its most recent past. It's almost as if Berlin was first illuminated at the beginning of the 20th century and has since burned a bit of a blind spot on our retinas.
RUNNING ON FUMES
We were nearing the end of the European leg of our travels. In over two and a half months we'd passed through or stopped in 13 countries, slept in more than 30 different beds and logged thousands of miles on trains, planes, cars and sneakers. We were weary and running on fumes, but still excited to visit Berlin.
After a quick breakfast in Prague, the taxi toured us through the city one last time before dropping us at the train station. Unlike many stations in Europe, this one had a decent selection of shops and cafés inside. While the convenience stores were pretty much the same as you'd find in the U.S. – gum, candy, chips, sodas, and magazines – what was different about them is that the porn magazines were set up for easy sale. They are front and center and full-on – no smoky Lucite boards covering the fronts here – which meant I kept the boys at a good distance. Who buys a porn magazine before loading onto a train for eight hours anyway?
On the train, Asher and I walked to the dining car to purchase snacks. I didn't have Euro nor enough Koruna, and the POS system wasn't working. Instead we negotiated a deal for three waters, two candy bars and a tube of Pringles using a combination of Swiss Francs and Croatian Kuna. Asher watched closely and helped me calculate rates as we created our own mini forex market. What was most impressive was how well the waiter knew the exchange rates across European monies. I had to use an app.
We arrived late in the evening into a gleaming, sprawling Berlin Hauptbahnhof – seven layers deep with a vast open atrium. It was all angular glass panels and steel girders, and filled to the brim with retail stores and tour agencies. Exhausted and not up for traipsing the neighborhoods looking for a restaurant, we found the food court in the station and ate Pizza Hut and Burger King.
WILLKOMMEN IN BERLIN
Once settled into our hotel in Mitte, Angela and Asher watched a movie. Ronan worked on Latin and Python coding homework while I read. We didn't wake until 11:00a the next day…bless blackout shades in hotel rooms.
We were in Berlin – East Berlin for those remember such a time. Our hotel was in the shadow of the imposing Fernsehturm Berlin, which pierces Alexanderplatz like a giant toothpick and olive. It was autumn, the kind you'd imagine for a northern European city. High gray clouds pressed flat against the top of the sky and gusty winds swirled linden leaves in the vortexes of cobblestoned alleys. We zipped up our jackets and set out for the Brandenburg Gate.
TEAR DOWN THIS WALL
It was the 25th anniversary of the fall of the Berlin Wall and preparations for the global event were happening across the city. The Brandenburg Gate, an important site from both a cultural and historical perspective, was at the celebration's heart. This was where Ronald Reagan told Mikhail Gorbachev to "tear down this wall" at another key event, the 750th anniversary of the city of Berlin. Although more famous as the symbolic (and visual) background for the tumbling of the Berlin Wall in 1989, we learned that the original site was commissioned by King Frederick William II of Prussia as a sign of peace.
The walk along the famed Unter den Linden was beautiful, though busy and loud as we wound through construction barriers and orange cones. There were lots of souvenir shops and Starbucks Cafés, as well as a woman selling thousands of vinyl records on fold-out tables in front of the library. We window-shopped at the Mercedes-Benz museum store (think Nike Town). Outside the U.S. Embassy, a large display of video monitors showcased historic events of the past 70 years. Included was footage of people running through the barbed wire barriers that preceded the construction of the Wall, as well as the 9-11 bombings of New York and Washington, D.C. – history repeating itself in five minute loops.
It was getting late in the afternoon and the sun had finally fallen low enough to peek beneath the thick layer of clouds. We walked along the Spree back toward our hotel, which took us by the Reichstag Building. Near a bend in the river we crossed police lines demarcating where just that morning thieves had stolen crosses memorializing those who had died trying to get over the Berlin Wall.
Despite the new buildings and a reinvigorated economy, Berlin still was a work-in-progress; a fact evinced by pockets of urban quietude and discontinuity found along the way. There were no tourists in this part of town. These were focused city-dwellers, scuttling across the cobblestones in clicking heels with the intensity of things yet to accomplish as they dodged traffic on their way home.
Yet under the arbors along the river, groups of locals sat sharing smokes and passing communal bottles of beer around, staring across the water toward the museums and fancy hotels on the other side. All the while, the Spree moved darkly and silently.
Currywurst is a thing. I recall being introduced to it in San Carlos many years ago by our friends and neighbors Franz and Renate. Wanting to plug into Berlin's routine, I had currywurst for lunch one day, along with a gigantic stein of traditional old-style Hefe beer. One benefit of traveling outside the usual tourist season is having short lines and discounted tickets. Another benefit is having an entire restaurant to ourselves, which was the case here on several occasions.
THE INVISIBLE BERLIN WALL
The Berlin Wall is so often talked about as a physical structure, yet it is the mental scar that permeates this city. The day's walk took us toward the famous East Side Gallery, a long stretch of the old wall about 1.5k from our hotel. The neighborhood was a bit sketchy and appeared to be in transition, with new condos replacing old industrial buildings along with a smattering of casinos and petrol stations, but no shops. Is that it? Asher asked, pointing toward a long unbroken stretch of graffiti'd wall. The narrow sidewalk that separated the works of art from the roadway, where Mercedes and Fords have replaced Trabants, didn't give us enough space to step back and fully absorb the art. It also created a powerful feeling of claustrophobia given the cars screaming past only a few feet away. We were pressed up close and couldn't escape the the powerful messages.
As the yolky orange of the sun spread across the sky to the southwest, we walked across the Oberbaum Bridge and into the Friedrichshain-Kreuzberg district. We were pooped from the hike across the concrete terrain and needed to stop for a beer, a glass of wine and some snacks. We found a quaint place called Tante Emma and spread out on an eclectic mix of chairs and loungers, accompanied by old tables, candles and chill music. If Morcheeba was a bar, this was what it would look like. We could have stayed all night, but we'd found a burger joint in Berlin called The Bird. When I called to make a reservation the women on the other end gave me a catch-phrase (she didn't have a pen on her at the moment) so that she'd remember us when we arrived. I am Batman, I said to the maître d, who blinked and smiled a little. What? he replied. I am Batman, I said again more slowly. He turned to the woman standing behind him, who slowly registered what I was saying and smacked her colleague on the shoulder. That's Batman, she said. Take them to Table 13.
HORROR IN BERLIN
We found the public transport system to be quite easy and rode the U-Bahn from Alexanderplatz to Potsdamerplatz, then walked from there to the Memorial to the Murdered Jews of Europe. The outside was an enormous, intentionally disorienting area containing large and uneven concrete monoliths that from a distance present a smoother contour than actually exists. We walked among the blocks until we reached the entrance to the underground memorial. Upon entry one of the docents suggested that our sons might be too young for the images and content in the museum. Angela and I ran advance through the exhibit and determined that it would definitely be too disturbing for Asher, but gave Ronan the option to choose for himself. So while Asher sat away from the displays and read a book (and we later talked about the content with him in a way he could comprehend), Ronan toured the memorial at his own pace.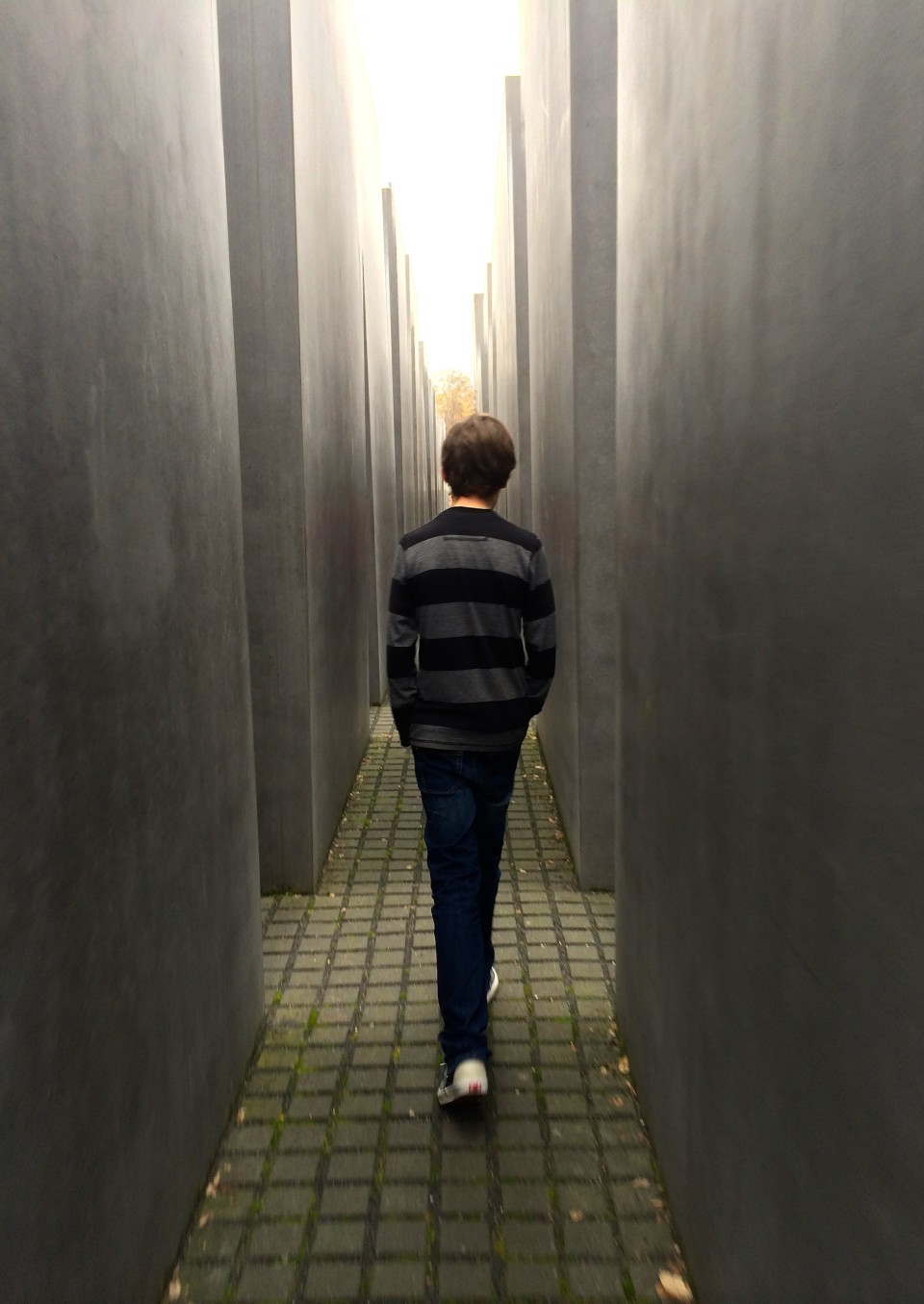 We walked slowly through the rooms, staring somberly at mural-sized portraits of little girls and aged grandpas, old postcards and letters written by those on their way to the concentration camps and gas chambers. Everyone listened intently to the audio guides that explained the exhibits in detail – often painfully so. I removed my headphones in one of the "caverns" with illuminated casket-shaped storyboards on the floor, and listened to the sounds of the visitors quietly sobbing or sitting alone in silence. There was an occasional gasp. I've seen images of Holocaust victims and read their stories before, but this memorial was different.
The experience was devastating, and impossible to adequately describe without visiting it for yourself. It followed entire families through the war and Holocuast, revealing histories and stories that were much more personal then what we'd read or heard before. Countrymen murdered each other, parents were sent away and children were lost. It took us all a long time to speak after leaving the memorial. The cold walk back to the train station allowed us time to take it in.
Berlin and many other parts of Europe observe an honor-system on their public transportation. Only in Budapest did we see someone accosted by law enforcement for riding without paying, and it looked like an expensive and extremely embarrassing situation.
BERLIN RISING
Whether or not a fair comparison, modern Berlin reminded Angela and me of the Chicago of our youth – when we lived there in our mid-20s. Berlin had an energy and confidence, not swagger or cockiness, just the pervasive vibe of a city on an upswing. There was pride in its concrete and glass buildings, super clean streets and subways. Its citizens were extremely polite and helpful, but they moved with purpose.
We loved it and promised each other a return visit. After picking up a car at the train station and allowing the GPS to 'discover' our current location, we toured through the suburban sprawl. Cloudy, windy and cold, it rained for a long time until we found the autobahn and headed deep into the countryside.
The drive was lovely. The German countryside reminded me of rural Pennsylvania, Ohio and Missouri. The big difference was the roadway, which was absolute perfection, flawlessly designed for safe conveyance at a very high rate of speed.
110 MPH IN A FORD WAGON
Although it is a commonly held belief that the autobahn has no speed limits, it does – in short sections. Otherwise there are long stretches where drivers are unencumbered by anything except the tuning of their machines and their courage. I rarely pay attention to the speedometer, preferring to follow the flow and rely on the collective wisdom of my fellow drivers. So without realizing it, I discovered that the 'flow' was going 180kph, or 110mph. And while they were in BMWs or Mercedes, I was in a Hertz-issued Ford station wagon. I slowed down.
Once off the main motorways, ballistic sport sedans were replaced by lumbering produce trucks and we entered a series of curvy and narrow roads that cut across farms and forests. We were in the Harz Mountains of Germany, a region known for its potatoes.
WALLED VILLAGE #1
Quedlinburg is a UNESCO World Heritage Site and a major stop along the Romanesque Road. If you close your eyes and imagine a 'quaint German village with cobblestone streets, little artisan shops, inspiring gothic churches and half-timbered houses,' this is the town you'd see. It's as though time, all 1200 years of it, has left it untouched. Driving through to find our apartment the streets were so narrow that pedestrians had to step up into door frames so that I could pass.
We had a lovely apartment that felt like a real home, complete with a garage set off the street and a little deck overlooking the neighbors' gardens. There wasn't much to do in the town, so for two days we simply slept well and explored. The walk up to the castle was plenty steep, and the view overlooking the autumn forests and fields surrounding the town was lovely. The people were exceptionally friendly and in the midst of preparing their village for the Christmas Market. We found a beautiful store of handmade wooden toys and decorations and bought some gifts for loved ones at home.
WALLED VILLAGE #2
The next stop was Rothenburg ob der Tauber, another walled village along the Romantic Road. In fact, our hotel was built into the medieval wall. Like Quedlinburg, it was as beautiful a place as you'd imagine, although much busier with throngs of visitors. We circumnavigated the well-preserved wall and gates, and the various defensive embrasures showed how the security evolved from arrows to crossbows to blunderbusses to muskets.
Eating in these smaller villages was a bit of a challenge. Given our current travel, we aren't always hungry at traditional meal times. Sometimes we want breakfast at 11:00a or a light lunch at 3:30p, and finding restaurants open at those times is difficult in many parts of Europe. In Rothenburg, most of the restaurants were traditional German cuisine, another challenge with one vegetarian and one picky eater. Despite this we had some excellent meals in the town – an Italian joint that looked like it was the owner's personal kitchen and a sushi restaurant with original bondage art hung on the walls. Strange, but it worked.
SCHNEEBALLEN
We also discovered Schneeballs in Rothenburg. These are treats made from shortcrust pastry wadded into balls and coated in a range of flavorings. The traditional mode is confectioners sugar, which we tried and liked; we also tried a version coated in cinnamon that was pretty good. There must have been more than 30 varieties to choose from and they were lovely to look at, but after careful evaluation we rated them a B-.
Our favorite spot in Rothenburg was the Burggarten, where we sat and walked and sat some more one gloriously sunny afternoon. The spongy ground was covered in brilliant yellow and orange elm leaves, and the valley beneath the city's walls reposed.
Our final day in Germany was mostly a dash from Rothenburg to Frankfurt, with a brief stop in Heidelberg to view the Heidelberger Schloss. We didn't have enough time left to thoroughly tour the castle but instead walked the perimeter and were awed by its massive scale.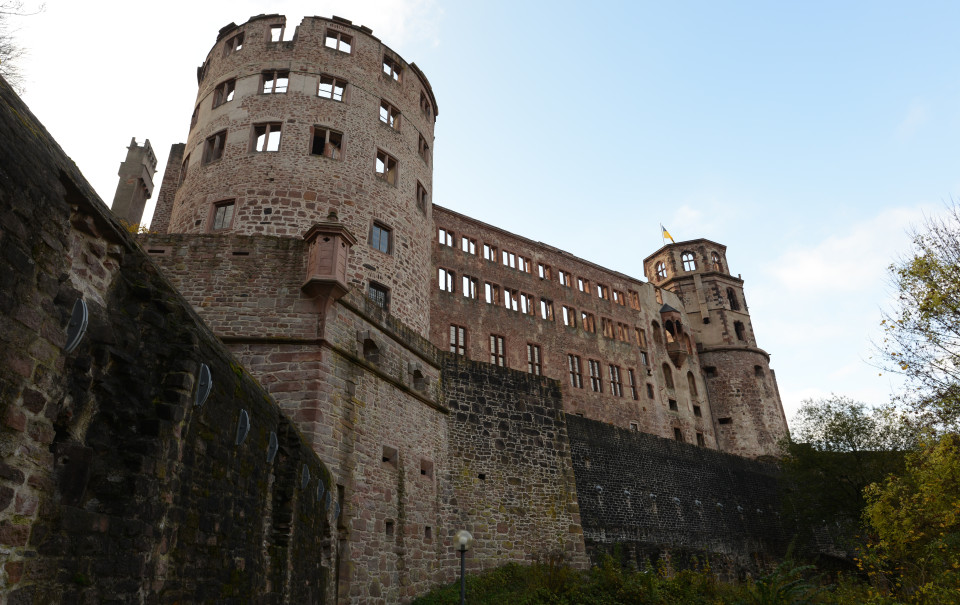 This wasn't just an end to our travels in Germany but also Europe. For three months, we'd lived as part-time tourists, part-time citizens and full-time students in so many unforgettable places.