Asher and I were crawling 15 feet beneath the hot jungle of Vietnam, still 50 meters from the intersection where we hoped to find steps back to the surface. We had no map, no light. Mr. Nguyen, our guide, was far ahead of us in the pitch black, encouraging us through a burrow no more than a meter in diameter; he seemed very tuned in to our thoughts. "I'll get you out. Do not worry," he said. "I know the way." We could hear the smile on his face as he reassured us from the gloom.
"Are you scared?" I asked Asher. He stopped shuffling along on the hard-packed clay ahead of me and replied after a long pause, "are you?"
TAXI FROM HELL
We'd arranged ahead of time for personal transportation throughout Southeast Asia, as the taxis are notorious. You don't have to worry about crime in Vietnam; you do have to worry about wheeled transportation and all things related to it. Crossing the street, riding a bike or taking a taxi are high-risk activities. More than 20,000 people died in traffic-related accidents in Vietnam last year.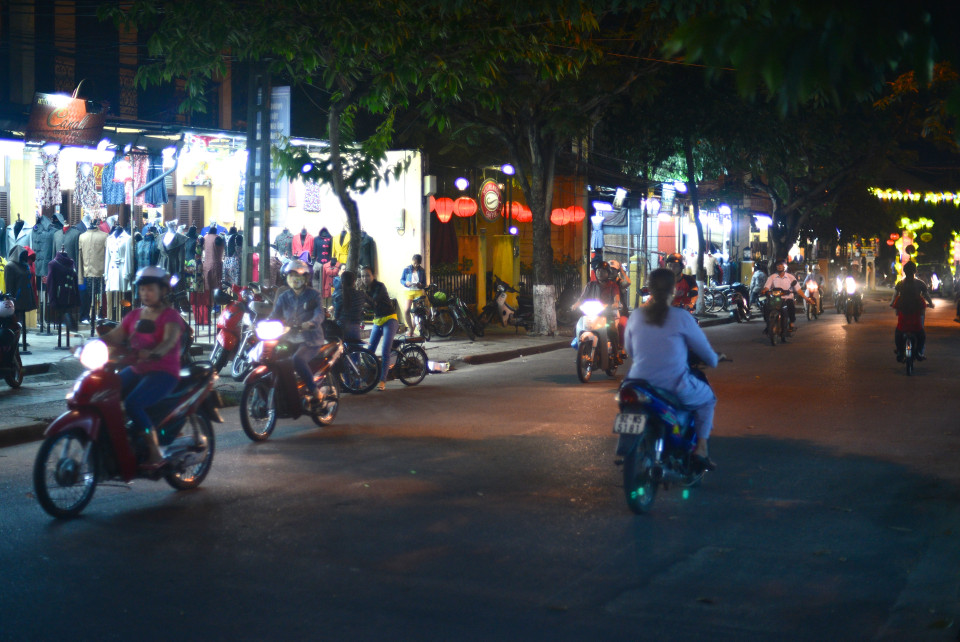 Our arranged driver was a no-show at the Da Nang airport, which left us no option other than to take a local taxi. The smoke from nearby fires filled the air with a dreamlike glow. The drive from Da Nang to Hoi An was estimated to take an hour, but our ride with this unknown driver took only thirty minutes. He weaved dangerously between lanes and cut off motorbikes loaded with parents and small children. He was honked at angrily throughout the precarious drive – caroming from one side of the road to the other. We struck something large that shattered and sprayed debris in the headlights then bounced around inside the fender well for several minutes. The driver didn't blink, just pressed his foot to the rusty floorboard while receiving calls and texts. Thankfully we arrived at our destination alive, each bounding from the van onto solid earth.
A STROLL THROUGH HOI AN
Hoi An is a UNESCO World Heritage site often described as graceful and beguiling. It is indeed a charming city that sits along the languid Thu Bon River and boasts a large port of various boats for tours, but many more for fishing to (literally) feed the local economy. It is a place where you can have a bespoke suit made for you in a day and merchants set up shop on the sidewalks; various trinkets and souvenirs of hand-cut paper, kiln-fired pottery and delicate jewelry are spread on colorful rugs. The restaurant scene is bustling. Tourists swarm from one side of the street to the other in search of something to buy.
We walked along with no map and no real purpose, simply absorbing the place that seemed straight out of the 19th century. The buildings are well-kept and smartly painted. Bright red and gold Vietnamese and Communist Party flags hang on the front of every shop. Enormous banners of a smiling Ho Chi Minh, "Uncle Ho," are strung up along the corners of major intersections reminding locals and visitors of the upcoming 40th Anniversary of the unification. We wound through the narrow streets and avoided being pulled into bartering for items we did not want to purchase. Instead we snapped pictures and people-watched. Our only exchange with the citizens was via smiles, which seemed more plentiful here than in other parts of Vietnam.
The walk back to the hotel brought us through the outskirts of town and past the less touristy quarters, with sidewalks loaded with motorbikes and families sitting in front of their homes cooking dinner on charcoal fires. Our clothes were saturated with the smell of smoke from the short trek.
Vietnam is complex. The rules that govern daily life are dark and difficult to follow. It is still very much a communist country, but one that has adopted a unique form of capitalism in order to attract large sums of money from visitors. But it's hard to tell how the citizens really feel about their visitors. So much of the cultural experience comes at you too fast and asynchronously to comprehend it in the moment – so many good gestures are done for the purpose of a tip. It is economic anarchy.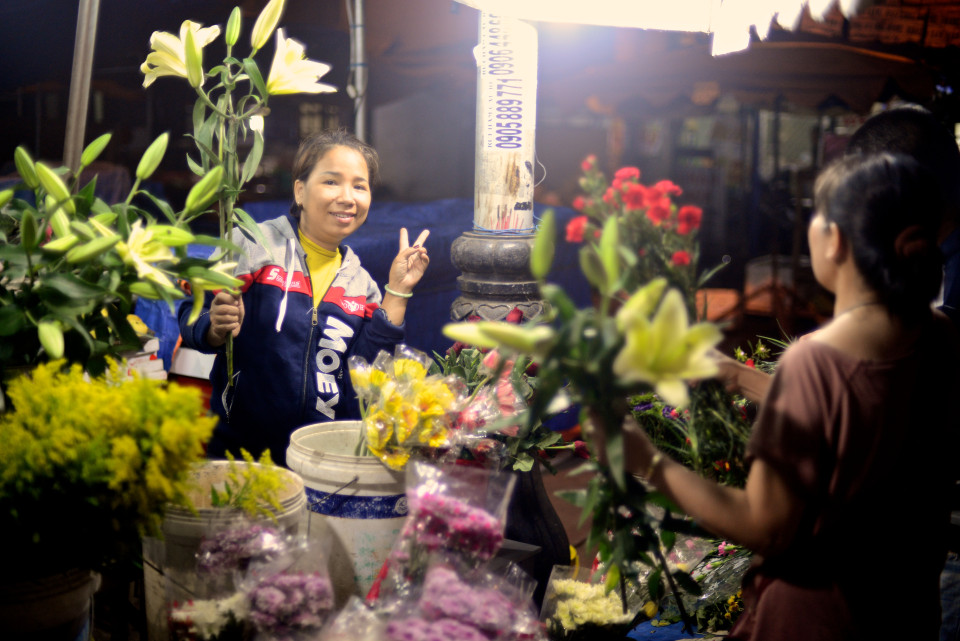 A constant of life on the road is that truths – whether about poverty, spirituality or beauty – often come as a surprise, no matter how much we've researched in advance. Those truths can be stark; we watched naked and filthy toddlers wandering the rice fields in Sapa. They can be existential; we witnessed austere conditions of daily life on the floating villages in Cambodia or in the streets in Hanoi. Or they can be disturbing; we were once delayed in traffic as a cockfight ended and haggard men wearing grim expressions carried their bloodied roosters home.
BIKES AND BOATS
The day of our cycling tour started with a heartfelt apology. Our guide bowed and promised to make amends for his error in abandoning us at the airport in Da Nang two nights before. Today, instead of a van, he arrived with four bicycles with bells on the handlebars. The day's activity was to cycle through Hoi An and into the surrounding farmland, with a midday ferry trip through fishing villages to break up the journey.
If navigating the streets of Vietnam is dangerous, it's at least doubly so on a bike. After about ten minutes of getting his pedals and seat sized correctly, Asher wisely decided to ride on the back of mine instead, sitting on a rectangular cushion over the back wheel. For much of our ride his arms were wrapped around my middle so tightly that I couldn't breathe. Ronan and Angela followed in sequence behind us. Our guide rarely stopped to see whether we had successfully forded the tangled intersections and were still behind him. Eventually we made it through the city and out into the rural open, but only after Ronan and Angela had a few close calls with buses who stop for nothing and no one.
WE MEET THE CAPTAIN
He told us to call him Cap. He was the captain of a thirty-foot-long heavy-timbered vessel that easily could have accommodated two dozen people. He navigated us safely through the narrow canals and across the busy main channel into the East Vietnam Sea. He was patient as we bumbled through proper Vietnamese, smiling and cheering when we got it right.
Cap was of slight build but strong, and his face was open and spunky, crinkled by life on the sea. His smile never left during the two hours we spent in his company. And he sang; pitch perfect and beautiful songs with words we didn't understand, but whose meaning was felt in the heart. They were sorrowful and cheery, jocular and quiet. In this man, a part-time fisherman and tour guide, was something eternal and good.
FISHING HOI AN STYLE
Cap steered our boat toward a bamboo platform in the middle of the bay and docked it on the port bow. An older man atop the rickety tower exchanged words with our guide and extended his hand to us. As I shook it, he pulled me toward him. Despite his age, he was mighty powerful and I was lifted awkwardly out of the boat.
"What is he doing? Where does he want me to go?" I asked as I resisted and pushed Asher back toward his mom. "To learn how to fish. It's okay. He's okay. He will show you how," said our guide.
So, I climbed up first, and Asher followed. Angela and Ronan chose to watch the fishing lesson from the boat, which Cap deftly decoupled from our delicate perch and steered back into open water. The old man was a fisherman, along with his wife who was circling ten feet below us in a row boat. Neither spoke any English; communication was exclusively big gestures and actions. The contraption in front of us was a handmade flywheel of old lumber, pieces of tires and nylon rope. The rope connected to bamboo poles forty yards away, which in turn were mounted to the river bed below. With blackened feet and callused hands, he showed us how to step, grab and pull the wheel to lift a 400-square-meter net from where it rested at the bottom of the water, affixed to those bamboo poles.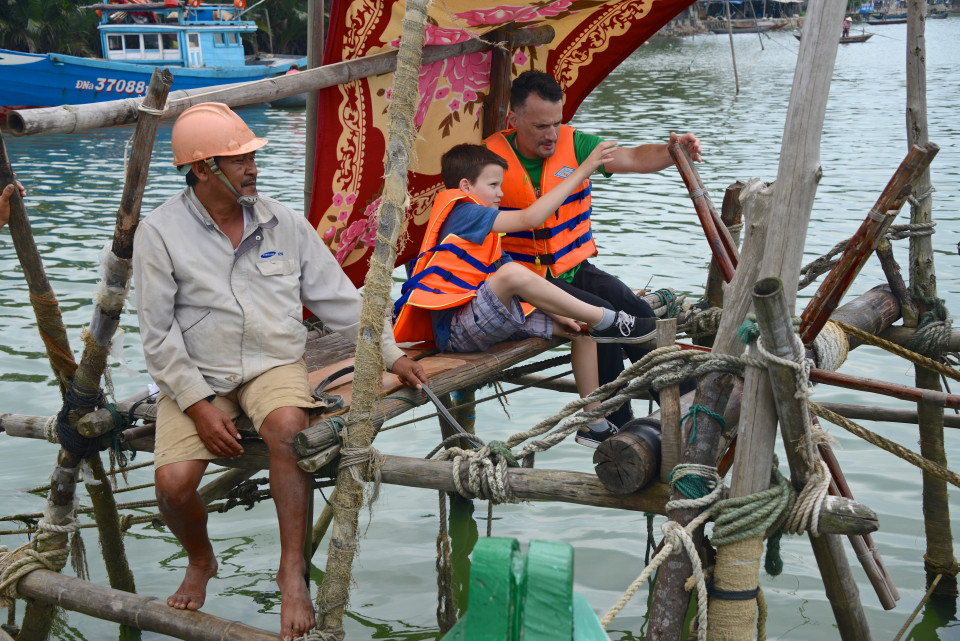 Asher went first and after a lot of effort turned the work over to me, but I struggled too. This was no easy way to feed a family. While the huge dripping net rose from the water, the old man smiled, patted us on our backs and gave us several 'thumbs ups.' His personality and demeanor spoke of an eternal friendship with Asher and me. He uttered a soft sound of shared disappointment when it appeared we hadn't caught anything other than small bits of garbage and rocks. With the net now suspended above the water, the three of us joined the fisherman's wife in the boat and rowed underneath the net. "We caught something, Dad. Look!" At waterline, I could see that indeed we had netted a "whopper" of a fish that somehow had missed our notice from the platform.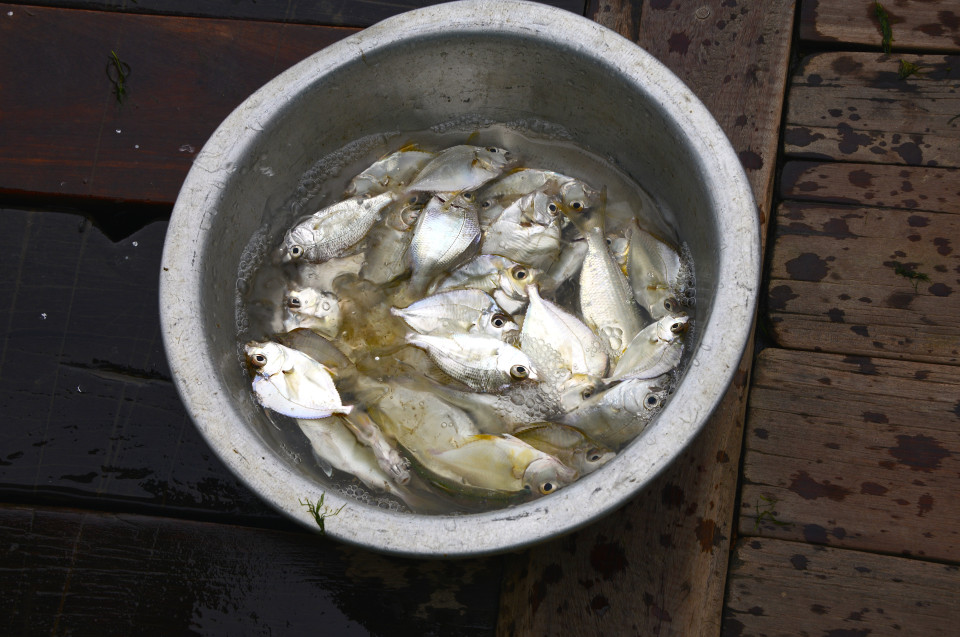 A couple of miles downstream in a quiet cove, two fishermen in a tiny boat no wider than but twice as long as a canoe waved vigorously at us. Again, Asher and I boarded the boat with the intent of catching dinner. As the fisherman and his wife rowed us away from the bigger vessel, Cap smiled and cheered us.
The man grinned and gently stood me up and gave me basic instructions for balancing, using gestures and pointing to the placement of his feet. We pirouetted to trade positions while the boat wobbled and pitched. "Don't tip us over, Dad," Asher encouraged. This was cast netting. The fisherman was patient and supportive; his wife clapped when we each tried our turns – coordinating elbow, hand, arm and shoulder to toss the heavy net while endeavoring not to capsize the boat.
The rest of our time with Cap was spent in a large palm estuary in Thung Chai, riding in basket boats and fishing for tiny crabs. Cap rowed with Angela and Ronan while another smiley gentleman guided Asher and me through the maze of palms that rose in thick verdant tussles. Maneuvering a perfectly round boat is not an easy matter; rowing too hard on one side spins the craft in place like a playground ride, which our guide illustrated for us with jovial laughter.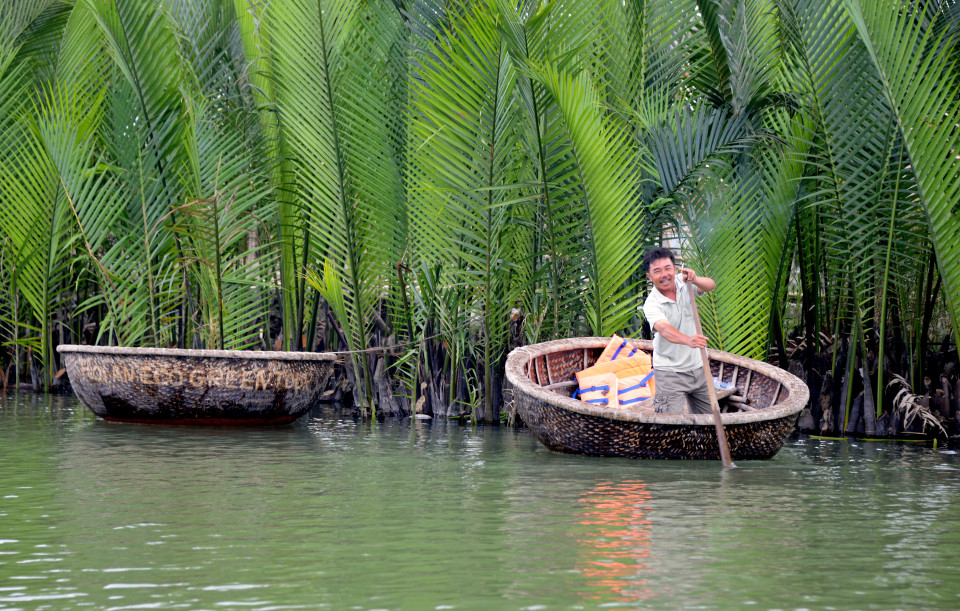 Back on our bikes, we headed over to the Tra Que Water Wheel – a restaurant and traditional Vietnamese cooking school in the center of a vast community-run organic farm. It was hot, but the ocean provided a gentle breeze that wafted through the thatch-roofed pavilions while we ate generous portions of fresh vegetables and fish. It was fuel for the final and only slightly less frightening pedal back to the hotel.
CRUISING THE MEKONG
It was a hot four-hour drive from central Saigon to the tourist port along the Mekong River, where we boarded our overnight cruise on the Bassac III. We were the first to arrive, which afforded us an opportunity to get settled in our berths and hit the mezzanine for a cool drink. Our crew had already prepared the ship and were next door hoisting beers, which I found slightly unsettling. I say only slightly because after three weeks in southeast Asia, you learn to accept different standards.
The sun shined bright as we steered into the busy waterway. The breeze cooled us and the subsequent thunderstorm brought the temperature down to a much more manageable level. After lunch, we stopped at a small village, reached via a very small boat that bore all 20 cruise passengers down a narrow canal. There we hiked another 2kms through the thick jungle.
The path was bordered by fruit trees that the local people harvest to sell at market. Our guide Lisa explained that the villagers have cultivated the Garden of Eden for several generations; the land protects and provides for its residents.
We'd forgotten our rain ponchos back on the boat, but once we entered the thick canopy of coconut, fig and ficus trees, only a fine mist made it to the forest floor. It was muddy and slick; livestock and motorbikes forced us to yield, standing in the gullies that bounded the trails. We eventually arrived at a small hut made of bamboo. The local farmers had assembled a sampling of their finest fruits and vegetables, with banana, pineapple, jackfruit, mango and dragon fruit set out on folding tables covered in checkered cloth.
Later we toured a local factory that produced everything rice – rice wine, rice paper, rice candy, rice cakes, rice taffy, rice whatever. We watched the workers using the rudimentary machines, smothering in the breezeless space. This was a demonstration for tourists – a bit of show-and-tell with the hope of a lot of browse-and-buy. The workers looked miserable, refusing even to make eye contact with our guide or the group.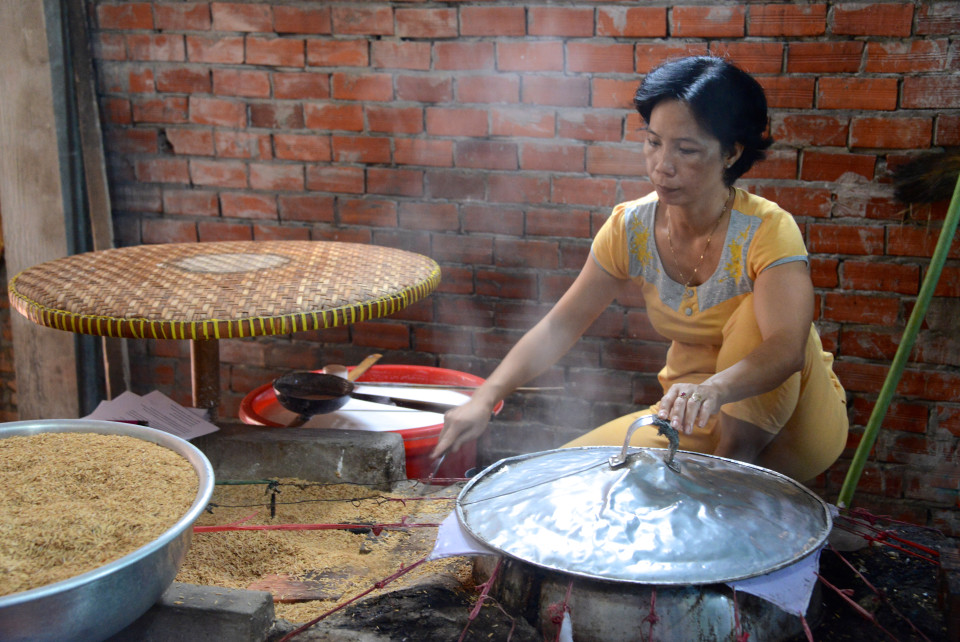 The cruise itself was lovely and the Mekong Delta is beautiful. Sure, there is a lot of trash floating by and navigating the river felt dangerous. But life on the edge of the slow moving water was not for show. It was reality, and it was vibrant and colorful. Pods of old men sat in conversation all staring at their fishing lines. Mothers on their way home rode bicycles with baskets loaded with fresh fish and onions while their children threw stones at bobbing plastic bottles. Dogs sniffed at the flotsam along the shore, pausing frequently to scratch away the fleas from their ears. Tanned boys in ragged dungarees pinned their sweat-drenched shirts to dry on rusty barge cables.
It's the invisible force of gravity that moves the Mekong to the sea, and it's the Mekong that accretes the essence of life – struggles and suffering, great beauty and solace. It's a life that to an outsider seems mysterious and difficult, but one rich in the sediments of tradition and history.
HISTORY LESSONS IN THE JUNGLE
It was clear from our arrival at the airport in Saigon that Mr. Nguyen was a military man. His stature, handshake and carriage all suggested a lifelong mastery of mind and body. He was self-assured and he was lean. Nguyen looked us directly in our eyes when he spoke; he walked with purpose. We didn't know it at the time, but we were on our way to Ben Duoc in the Cu Chi district to get the history lesson of a lifetime.
The drive was long enough to afford us time to meet Mr. Nguyen, and he joined us for lunch along the lazy Saigon River. He leaned in close, glancing back over his shoulder "You're American, yes?" he asked. "Good. Then there are things I can share with you about this region you won't hear from others."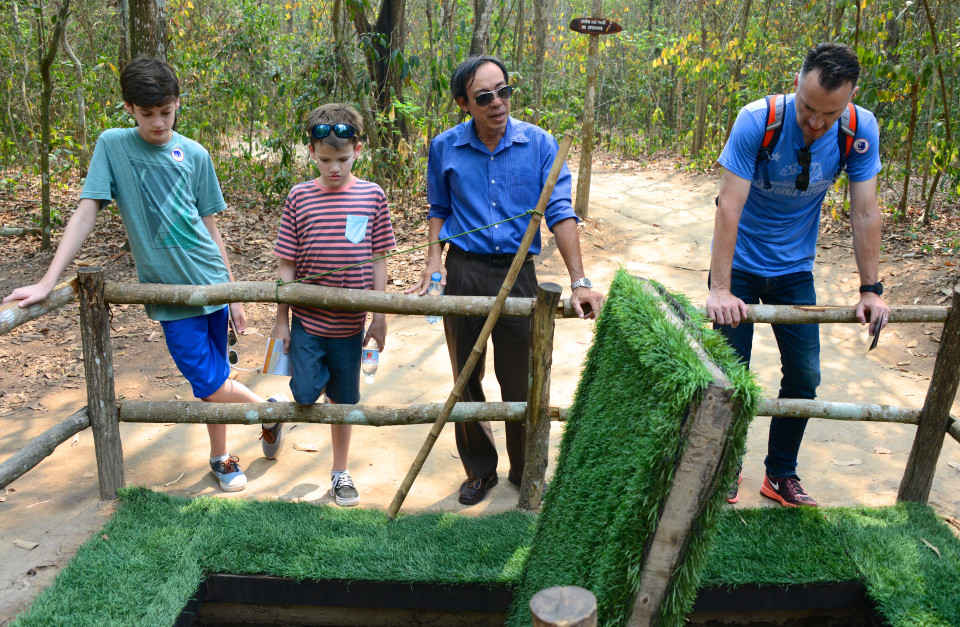 Nguyen was a South Vietnamese soldier who'd trained in Texas for six months and was on track to becoming a pilot when the U.S. extricated itself from the war. When the North Vietnamese Army took over Saigon, he was shipped off to a re-education camp for two years – an endurance he simply called "unspeakable." He said that the government still watches and listens to its citizens 40 years later, so he was exceptionally cautious about what he said and when. Since he hadn't worked with the day's driver before, he waited until lunch to reveal more about his story and experiences.
He told us about the last days of Saigon and the aftermath of unification. The "South" was severely penalized for the subsequent ten years. Many people died from starvation and disease. The notion that the U.S. was no longer wanted in Vietnam Nguyen called "pure propaganda."
TUNNEL RATS
It's in the script of all cave tours. At the deepest part of the cave, usually in a large vaulted chamber with an epic name like the Parthenon or Cathedral, the guide shuts off the lights. Click. Click. Click. "This is how dark it is without the lights," she says. You stand there with 40 other strangers, all holding tightly onto railings or leaning against walls. Maybe a drop of water echoes in the distance or someone coughs, but overall there's no feeling of fear. The lights will come on; you'll soon recover your orientation from the pitch black and resume the trek back to the surface.
There are no scripts in this part of the world; there's no guarantee that the lights will work or you'll find your way home.
The tunnels of Cu Chi are a significant memorial of the Viet Cong's successful campaign against the American soldiers during the war; more that 45,000 Vietnamese died protecting this underground base. Here we found termite hills that weren't – instead they were camouflaged air vents. We viewed atrocious booby traps designed to mince a man's leg. We learned that entire hospitals, armories, dining halls, barracks and kitchens once existed across four levels beneath the jungle floor, a network stretching more than 150 miles. Many GIs were killed here by enemies that popped up from the ground – enemies they never even saw.
"Who wants to go down in the tunnels?" Nguyen asked. Asher and I raised our hands immediately. He pointed at a spot about 100 yards away and said it was our destination. We disappeared down a flight of stairs cut into the red clay earth. Tunnel rats were specialized U.S. soldiers who performed deadly search and destroy missions in the twisting burrows of the Cu Chi fighters' base, sneaking into holes like these armed with a .45, a flashlight and a bayonet. I had an iPhone.
"Did they clear these tunnels of all mines and other munitions?" I asked Nguyen. "Yes," he replied. "They don't find new ones very often anymore."
Nguyen was ahead of us in the dark shaft. No lights. No hand rail. This wasn't a cave, it was a hand-dug tunnel more than 50 years old. The guerrillas who crawled through them every day were battle-hardened and fighting for something more important than their lives. It was hot, and very claustrophobic – I had to crawl on my belly for much of the journey. There was a glimmer of light off in the distance and I relaxed a little bit, but Nguyen stopped and said, "give me your camera and I'll take a picture of you." It was pitch black. "Does it have a flash? Yes? It will work then." And so Asher and I waited for Nguyen to crawl back to our position, turn around and snap the photo; all the while we looked at that sliver of sunlight at the end of the tunnel.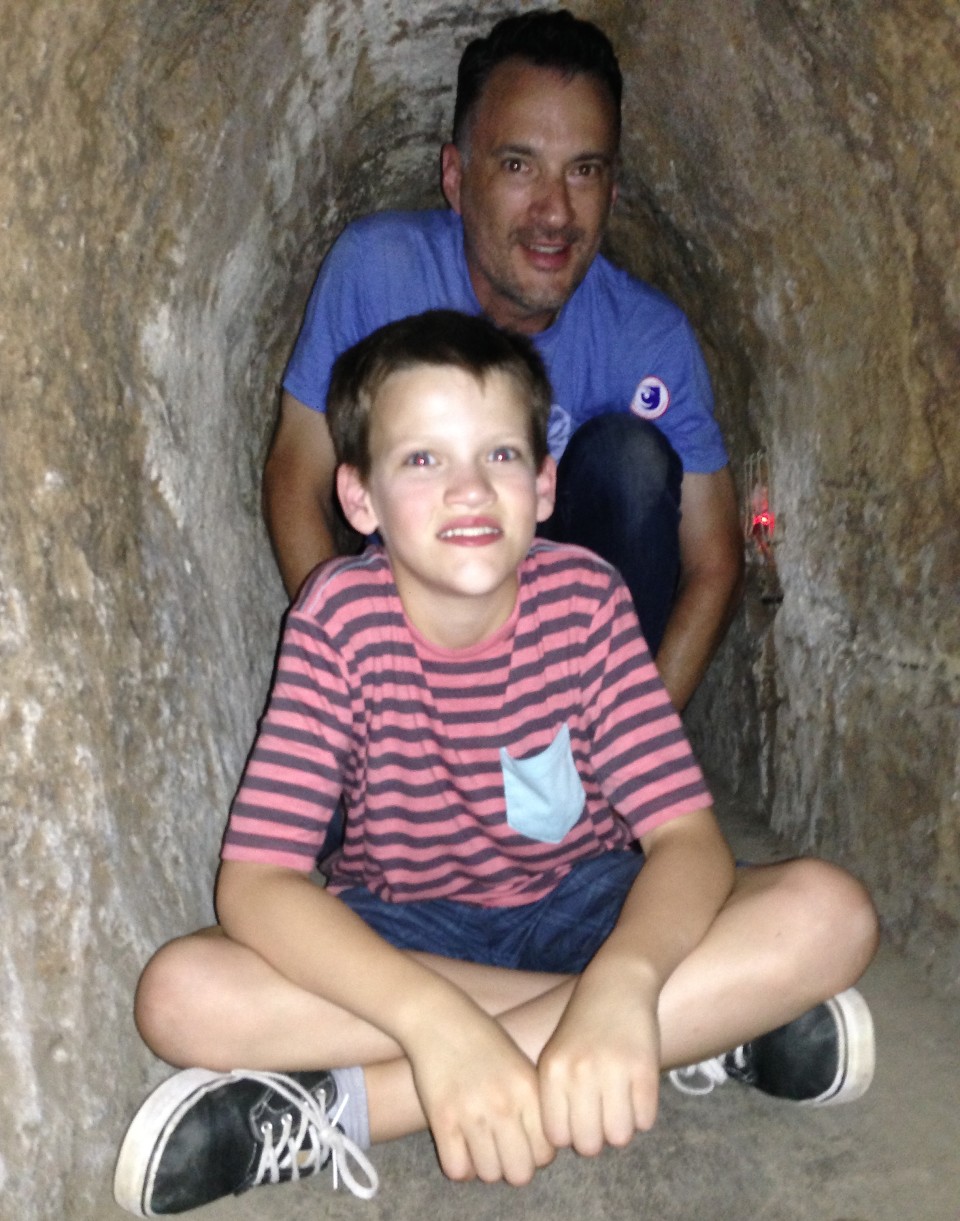 SAYING GOODBYE
The drive from Ho Chi Minh City to the international airport was carved through the meat of the city; the labyrinthine streets and alleys that zigzagged the great density of Saigon was disorienting. Even if we'd had a highlighted map it would have been hard to differentiate north from south. But that's how we found our experience in Vietnam – a warren of customs and beliefs that both mystified and enthralled us.